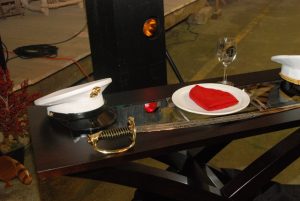 The Second Continental Congress established the Continental Marines on 10 November 1775.  Each year near that date, Marines around the world celebrate the Marine Corps birthday.  The celebration may be a formal ball, a casual party, a cake shared with friends, or a simple "Happy Birthday, Marine!"
The Marines of the Southern Indiana Leathernecks would like to invite you to celebrate with us.  You need not be Marines or military.  All our welcome.  Our formal Birthday Ball will be held on 9 November, 2019 at Huntingburg Event Center.  There will be a ceremony including the current Commandant's message, posting of the colors, reading the 13th Commandant's message, and cutting of the cake.  This will be followed by dinner, speech by the guest of honor, and presentation of awards.  Finally, we will have music and dancing.
With the larger venue, and hopefully larger attendance, we have made a few changes from prior years.
Ticket purchase

will be online through EventBrite.  This will collect all the information we need.  Meal selection is not required.  Ticket purchase will be open from 23 August, 2019 through 24 October, 2019.
We will not have assigned seating so if you want to sit with certain people, arrive early enough to select your table.  Another option is to purchase all 8 seats at a table at the same time.  We will do our best to designate an entire table for your party of 8.
We are offering sponsorships at various levels.
The full invitation with all the information can be downloaded here.
Print the sponsor letter here.
The link to purchase tickets and sponsorships is here.    Remember, it will only be open Aug. 23 through Oct 24.