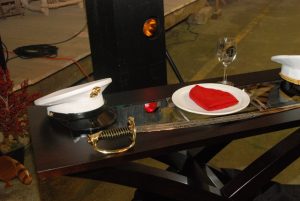 The Second Continental Congress established the Continental Marines on 10 November 1775.  Each year near that date, Marines around the world celebrate the Marine Corps birthday.  The celebration may be a formal ball, a casual party, a cake shared with friends, or a simple "Happy Birthday, Marine!"
The Marines of the Southern Indiana Leathernecks would like to invite you to celebrate with us.  Our formal Birthday Ball will be held on 3 November, 2018 at Sultan's Run in Jasper, IN.  There will be a ceremony including the current Commandant's message, posting of the colors, reading the 13th Commandant's message, and cutting of the cake.  This will be followed by dinner, speech by the guest of honor, and presentation of awards.  Finally, we will have music and dancing.
Click the links below for more information and the required RSVP.  The deadline to purchase tickets is 20 October, no exceptions.  There will be no tickets sold at the door.